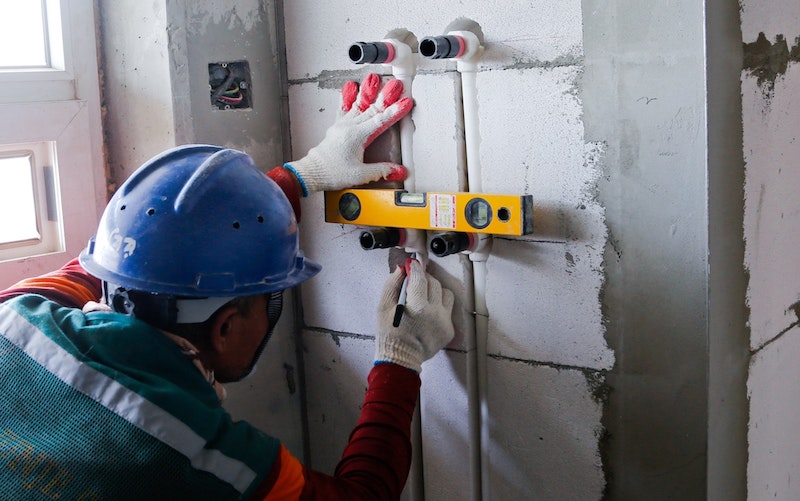 Habitat for Humanity Volunteer working on restoring a bathroom
In 2018-2019, District Governor Gerald Robinson added Helping Homelessness Organizations as a focus. Your Community Service team can help connect you with nonprofit organizations in your Area doing this work.
And, Rotary International just announced a new partnership with Habitat for Humanity!
Rotary recently entered into a service partnership with
Habitat for Humanity International
to help enhance our service activities. Committed to the belief that every person deserves a decent place to live, Habitat for Humanity International began in 1976 as a grassroots effort on a community farm in Georgia, USA. Families and individuals in need of a helping hand partner with Habitat to build or improve a place they can call home. Since 1976, Habitat and its 1.8 million yearly volunteers have served more than 9.8 million people in 70 countries around the world.
This new partnership aims to help enhance club and district-led service activities by providing access to resources and programming.
Clubs can work
with Habitat affiliates and local communities to design and provide long-term, affordable housing to families most in need of shelter. Habitat for Humanity has a long history of working with Rotarians and Rotaractors to build the types of low-cost shelters that now qualify for global grant funding. It's also a natural fit for Rotary's approach to vocational service, which encourages members to use their professional skills to help others.
Through hands-on volunteering, financial support, or adding a voice to support affordable housing, everyone can empower families to achieve the strength, stability and independence they need to build better lives for themselves. To learn more about Habitat for Humanity, search for the nearest by entering your zip code on this page
https://www.habitat.org/where-we-build/united-states-canada
.